@ Real Estate property management
With a clear vision, @ Real Estate has set out to re-engineer the way Real Estate is bought, sold, and how investment properties are managed. Focused on delivering a world class experience to sellers, buyers, investors and tenants alike as we are continually striving to be proactive and innovative in our approach, by exploring new ways to improve our customer's experience.
The Agency Principle; Natalie Gesler and partner Troy Gesler have assembled the most motivated, passionate and innovative team of experienced and highly trained professionals who provide a friendly, straight forward, and honest approach and don't shy away from a challenge. The team at @ Real Estate pride ourselves on continually providing the highest levels of service, along with our deep local and industry knowledge, and the willingness to go that extra mile to achieve outstanding results for our valued customers.
Meet our Property Managers
Karin and Troy are the @ Real Estate Property Managers; with over 27 Years' between them, Karin and Troy have the experience and the tools to support you and your valuable asset.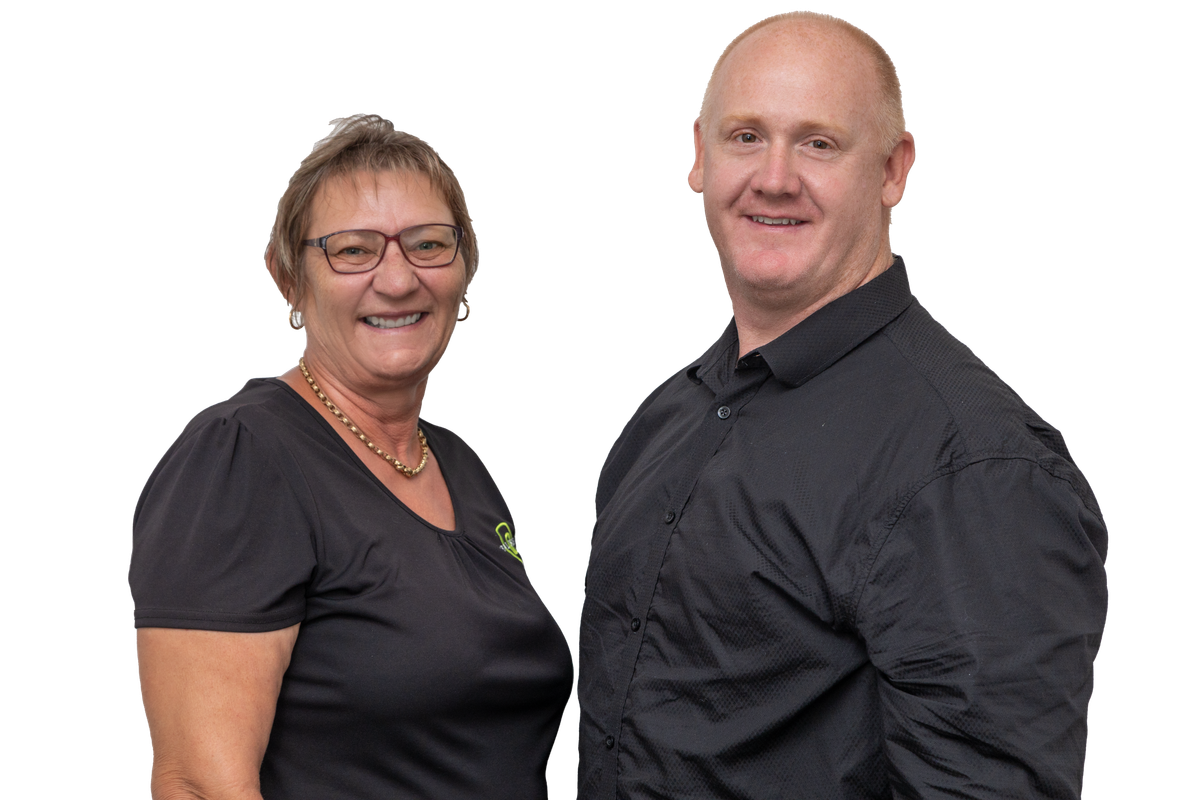 Where we are
Our office is conveniently located in James Street Yeppoon, next to IGA. Most of our staff are long term residents of the local area and enjoy the local community and what it has to offer including- our beautiful beaches, culture, wildlife, arts & caves. With Great Keppel Island only a 30-minute boat ride away, this is a popular weekend getaway.
Investing
Investing in property represents long term security, hence why there are a number of people now buying into the property investment market. A well-managed investment property can potentially provide many benefits. A considerable amount of money is involved to secure your financial future, so choosing a Property Manager is vital.
Potential Income
When we assess your investment we take into account the current market trends, location, size of the property, inclusions, presentation, and current levels of enquiry. Our aim is to use our skills to increase the worth of your investment property. Unfortunately, some agents inflate their appraisals to win over the management. We believe that setting a more realistic and honest price range which can be achieved is best practice. The rent we recommend for your investment property is based on current rents being achieved for comparable properties and supported by facts & statistics.
Choices
Choosing a Real Estate Agency to manage your property is one of the most difficult decisions you will have to make. Each property is different and should be represented for its own features, while taking into account your needs and making sure that they are meet. Having the right procedures, processes, systems and the experienced property manager/s in place ensures strength that the agency can manage your investment future.
Procedures
There is more to Property Management than just collecting rent and hoping for a good outcome. Property Management involves communication skills, arranging maintenance, conducting routine inspections, entry and exit condition reports with photos, selecting good quality tenants, lease renewals- with rent reviews to reflect the current market conditions.
Legislation
Our Property Managers keep up to date with the latest laws and legislation, providing investors with peace of mind that their property is being well looked after. The Federal and State Government over the last few years have introduced legislation into our industry that requires landlord/s and tenant/s to comply with statutory laws. As your industry expert we must ensure that you remain compliant and that your tenant/s remain safe. These laws require us to engage the services of licensed tradespeople to undertake, monitor and service the particular
areas.
These areas are:
Smoke alarm servicing

Blind cord compliance

Water efficiency certificate

Pool and spa safety
Skills
Residential tenancies can be subject to disputes and we have the knowledge and skills to help prevent this should the situation arise. So, maintaining a respectful relationship is key to achieving the best outcome for both parties.
Services
Our Property Management department specialises in the Rental Management of;
Residential homes & units

Acreage & rural properties

Industrial & commercial properties

Corporate leasing
Management Fees
Property Management fees are mostly discussed as a percentage, but what does this mean and what are you paying for?
Below is a list of some of the important work we do for you, that covers our property management fees of 8.5%
Processing application

Data base checks

Collection of rent & providing receipts

Entry Condition Reports including photos

Exit Condition Reports including photos

Check rent arrears daily

We have a zero tolerance on rent arrears

Rent reviews

Process accounts & invoices

Arrange general maintenance repairs

Arrange emergency repairs

Carry out routine inspections every 4 months

Address all tenant & landlord queries

Issuing Notices to Remedy Breach & Notices to Leave

Prepare paper work for QCAT if & when required

Adherence to the privacy legislation

Monthly statements
Selecting quality tenants
Selecting a quality tenant/s is a skill that comes with years of experience and comes down to very good management, and the ability to choose the right tenant for the right property. @ Real Estate's process for selecting a quality tenant/s include;
Tenant data bases
Here at @ Real Estate we subscribe to (TICA) to ensure that applicant/s have not been listed as having a default by other agents, defaults can be rent arrears, cleaning to property damage.
Ability to pay rent
When applicants submit their applications, we request that they provide pay slips, employers contact details and/or their accountants details if self-employed to verify their financial ability to pay the rent.
Ability to care for the property
On each application form we request previous renting information from where each applicant is currently living and where they have previously lived. We verify this by emailing a rental reference to the agencies requesting information such as;
Confirming the applicant/s are/were listed as the tenants at the property

Rental payment history

Any Notices to Remedy Breach- What they were for and how many

How inspections were?

Was the property cared for in accordance with the tenancy agreement?

Was the yard maintained to a satisfactory standard?

Were pets kept at the property?

Would you rent to this person again?
From this information we can determine if the applicant/s have the ability to care for the property and the ability to pay rent.
Identification
We require each applicant/s to provide 100 points of identification and best practice would be to have one form of photo identification with current address and signature/s.
Personal References
We request two personal references from each applicant/s from people that have known the applicant/s for a period of time and are not relatives or partners.
Finalising Applications
All our applications are processed as soon as they come into our system. The system automatically sends out the previous agency references, employment checks and personal references. Once we receive all the information, we then email the owner/s with a description of each applicant for their decision. Should the owner/s need to discuss any applications we are always available on the phone.
Landlord Responsibilities
Landlords need to aware of their responsibilities while renting their property.
To ensure that the property is clean and in good repair.

Meet all health and safety laws

Carry out repairs and maintenance

Respect the tenant's privacy and comply with entry rules

Abide by the terms and conditions of the agreement
Entry and Exit Reports
An entry condition report is the foundation for the lease agreement. It is the document that is referred back to at the end of the tenancy to ensure the property is in the same condition taking into consideration fair wear and tear. This is completed by the Property Manager before the tenant moves into the property, where it usually takes between 6 and 10 hours to complete thoroughly, depending on the size and condition of the property. In this report there is a through description and photos of each room showing any marks, scratches or previous damage to the property. An entry report is completed by the property manager, then the tenant and a copy is then passed onto the property owner for their records. This way you are kept up to date with the condition of your home and you are aware of any up-and-coming maintenance that could potentially be required. At the end of the tenant's agreement, an exit condition report is then completed. This is completed from the entry report noting any new changes or damage to the property. Ensuring the property is up to the same standard as when the tenant moved in.
Routine Inspections
Routine inspections are a visual check of a rental property to ensure that the property is well cared for by the tenants and to check if there are any repairs, maintenance or health and safety issues. We must ensure that the tenant/s are provided with an Entry Notice (Form 9) providing a minimum of 7 days' notice of entry. When inspecting the property, we appreciate that people are living there, however, the tenant/s should have the property in good condition on the day of inspection.
Once the routine inspection has been completed it is then emailed to the owner with all the photos and a list of any maintenance issues. To ensure that all maintenance reported in the routine inspection is carried out, we follow up with the owners so that the maintenance is carried out in a reasonable time frame. This in turn keeps the tenant/s happy knowing that the owner/s are happy to maintain the property is good order. Should the maintenance not be carried out in a reasonable time, the tenant/s can issue the Property Manager/Owner/s with a Notice to Remedy Breach (Form 11) giving 7 days to fix the problem.
Maintenance
There are two types of repairs
Routine Repairs
Best practice is to report all repairs in writing to the Property Manager so they have a record of the maintenance required. This is then emailed to the owners for their instructions, once the owners' instructions have been received back a work order is issued for the repair/s. When issuing the work order we can email the owner, tenant/s and trades person at the same time. This way all parties are informed of the progress of the maintenance. Once the maintenance has been completed and we receive the invoice the job can be completed and again the owners, tenant/s and tradesperson are advised. Timeframes for repairs vary depending on the circumstances (e.g., availability of tradespeople) and the type of repairs needed,
The tenant should not carry out repairs without written permission.
Emergency Repairs
Best practice is to report emergency repairs immediately to the Property Manager or the nominated repairer (which is listed on the lease agreement) It is also a good idea to email the Property Manager as evidence of the emergency notification. Should the tenant/s not be able to contact the Property Manager, the tenant/s can arrange for qualified person/s to carry out the emergency repair/s to a maximum value of 2 weeks rent.
The following are emergency repairs;
a burst water service or a serious water service leak

a blocked or broken toilet

a serious roof leak

a gas leak

a dangerous electrical fault

flooding or serious flood damage

serious storm, fire or impact damage

a failure or breakdown of the gas, electricity or water supply

a failure or breakdown of an essential service or appliance on the property for hot water, cooking or heating

a fault or damage that makes the property unsafe or insecure

a fault or damage likely to injure a person, damage property or unduly inconvenience a tenant

a serious fault in a staircase, lift or other common area of the property that unduly inconveniences a tenant in gaining access to, or using, the property.
Insurance
Your investment property is a very valuable asset and protection is available to ensure that you are not left out of pocket in the event of an unexpected situation that may occur. While we choose your tenant/s very carefully and manage your property, unforeseen circumstances can occur. There are four main types of insurance available.
Landlord Insurance
Landlord insurance is specifically designed for the owners of investment properties to protect against loss of rental income, theft or damage by tenant/s. Please contact your insurance company for further details.
Building Insurance
Building insurance covers the home for the cost of repairing damage to the structure of the property. Please contact your insurance company for further details.
Contents Insurance
Contents insurance covers the cost of repairing or replacing your household personal possessions and furnishings, such as curtains, white goods, electrical appliances. Please contact your insurance company for further details.
Public Liability Insurance
Public liability insurance covers the cost of compensation for: personal injuries, loss of or damage to property. Please contact your insurance company for further details.
Why @ Real Estate?
Here at @ Real Estate we provide you with a traditional relationship-based Property Management service where the focus is on you.
We pride ourselves on personalised service with specialist skills, knowledge and

commitment to ensuring that your property is well managed.

Communication is key

We provide a quick response to maintenance issues, keeping both you the owner and

tenant/s informed.

We are diligent in assessing applicants

We conduct 4 monthly routine inspections with a thorough report emailed to you.

Rent arrears are checked daily with a zero tolerance

Portals for tenants and owners to check on rent paid, invoices paid and statements

You are always informed about any issues that may arise including tenants vacating,

lease renewals, legislation updates, maintenance and any questions or requests the

tenants have.
Marketing
For your investment property to reach its full potential we highly recommend a successful marketing plan to reach successful potential tenants
Photography
We recommend having professional property photos taken of your investment property to enhance your advertising. Presenting the property in an appealing way will set you apart from other properties that don't use professional photos.
Internet
Internet advertising is the most effective and far-reaching form of advertising for your investment property. Potential tenants respond well to accurate information and quality photos.
Rental Lists
Our rental list includes photos and information of properties currently available and is displayed prominently in the office for prospective tenants. We update our rental list daily so that potential tenants have the current listing only.
Community Involvement
Cap Coast Rental Association- This is a group for local Real Estate Agents to share concerns and discuss any issues they are have.

T@ble- This is a friendly group of local business professionals, owners and investors to

support each other.
Sales Professionals and Support Team Members
Our sales team work closely with the Property Management team to ensure our clients receive complete access to the most supportive and professional advice. Our clients benefit from both teams working together as we can ensure that the tenant/s feel comfortable with the agency entering the property as we have already built a relationship with the tenant/s. We will work with the tenant/s to arrange inspection times and or open homes.
Our Clients Receive
Advise on investment trends and ideas

Personalised information regarding the potential growth and stability of the current market.

Maintaining a good relationship with clients.

Recommendations on how to achieve the best return from your investment.
How much can you rent your property for?
Fill in the form in the link below and we will contact you with information about:
Current market trends and conditions

Recent local rentals

Information about our property management services